Clinton Hill
Preschool (Ages 2-4)
Preschool (Ages 2-4)
At JCC Brooklyn Clinton Hill, our classrooms are loving and caring spaces for children and families. Our children are encouraged to try new activities, meet new friends and satisfy their curiosity by learning about the world around them. We believe that our work is to support children to be the best that they can be. Home and school are a team and our doors are always open to families' questions and ideas. Please remember that when it comes to your child, there is never a question that is too small to ask.
JCC Brooklyn Clinton Hill offers:
Full and Half-Day Programs (including early bird and extended stay)
Progressive, play-based approach
Fully licensed and experienced staff
Jewish cultural framework
Music, art, and movement integrated into daily schedule
Brand-new, child-centered facilities
Daily snacks
Emergent Curriculum
Daily walks and playground visits
Rest time
Twos' & Threes' Room:
When you walk into our Twos' and Threes' room, you will see children actively engaged in all the centers, including painting at the easel, playing in the sand/water table, engaging in dramatic play, building with blocks, reading in our library, or singing songs at circle time. The main work of a Two-Year-Old is to become comfortable with school routines, make friends, learn about sharing, become part of the classroom community and try new activities. For our Three-Year-Olds, additional emphasis is placed on a math curriculum consisting of patterning, counting, sorting and number stories. All students' studies will deal with the self, family and classroom community.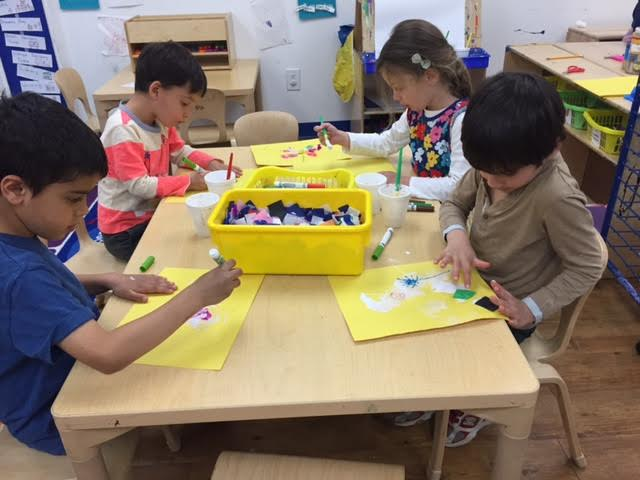 Physical Education:
At JCC Brooklyn Clinton Hill, we have an indoor gym where the children engage in cooperative games. They also play basketball, ride scooters, walk on balance beams, climb through tunnels, practice yoga and dancing and play hopscotch. It is very important that children at our school have physical activity every day. When the weather permits, we walk to the playground, where the children play on climbers, swings, blow bubbles, draw with chalk and play outdoor tag games.
Our preschool runs from September to June — however, we do accept students on an ongoing basis, so whenever there are openings available and our schedule permits it, a student can come join us!
If you are interested in meeting with us and getting to know the school a bit better, we welcome you to contact us at clintonhill@jcc-brooklyn.org
Please email completed applications to croman@jcc-brooklyn.org
or mail to: 309 Grand Avenue, Suite 1, Brooklyn, NY 11238